Zaha Hadid (1950 – 2016) was an Iraqi architect, artist and designer, recognised as a major figure in architecture of the late 20th and early 21st centuries.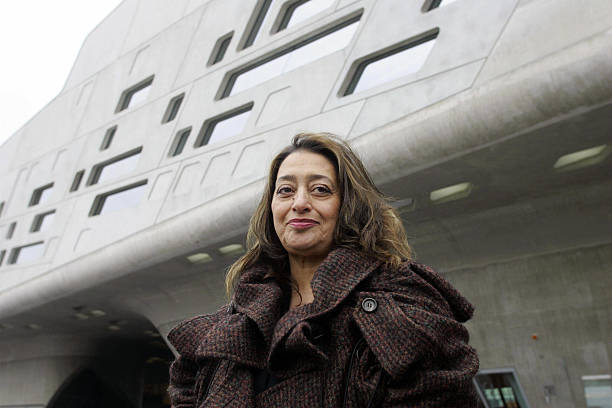 Education
She studied mathematics at the American University of Beirut in 1971. Between 1972 – 1977 she studied at the Architectural Association London.
Biography
In 1977, she joined the Office for Metropolitan Architecture, London. She taught at the Architectural Association. In 1977, formed OMA with Rem Koolhaas and Elia Zenghelis. In 1980, set up a private practice in Clerkenwell, London, with designers, painters, and architects on the staff. Zaha Hadid became well known for her award-winning design for 1983 "The Peak' competition, Hong Kong, a private club and residential complex. Using radical methods of representation, she credited early Suprematist exercises as influences on her work. Work included furniture; 1985 apartments, London; 1986 Kurfurstendamm office building, Berlin; 1986 IBA Housing, Berlin; 1987 Tomigaya, Tokyo; and 1989—92 fire station, Vitra factory, Weil-am-Rhien. In 1986, she was visiting design critic at Harvard University School of Design. In 1987, Columbia University, New York; (with Michael Wolfson) designed 1987 Wavy Back Sofa produced by Edra.
Recognition
Her work was shown in galleries and museums worldwide. She received the 1982 Gold Medal (apartment conversion, London) in Architectural Digest British Architecture Awards and 1983 first prize in 'The Peak' competition, Hong Kong. Wavy Back Sofa is shown at the 1991 'Monili Italiani 1961 – 1991′: Le Varie Età dei linguaggi' exhibition, Salone del Mobile, Milan.
Sample of Works
Sources
Byars, M., & Riley, T. (2004). The design encyclopedia. Laurence King Publishing. https://amzn.to/3ElmSlL
Zaha Hadid Books – Amazon
More British Furniture
Geoffrey Harcourt (b.1935) British Furniture Designer

Between 1960-61, he worked at Latham, Tyler and Jensen, Chicago, and with Jacob Jensen in Copenhagen; in 1961, opened his studio in London, specialising in furniture design; from 1962; began designing seating for Artifort, the Netherlands, who produced more than 20 models of his furniture designsRead More →
❤️ Receive our newsletter