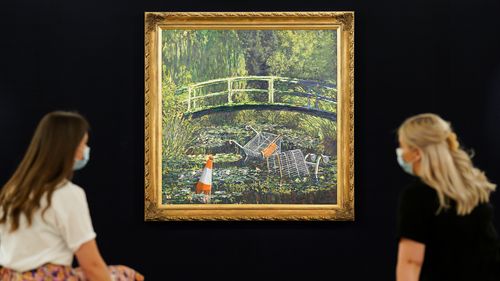 A modern version of an Impressionist painting by guerilla artist Banksy is expected to fetch up to $9 million at auction in the UK. The secretive British graffiti artist did his own spin on Claude Monet's iconic footbridge at Giverny but added shopping trolleys and a witch's hat dumped in the serene water.
Source: Banksy version of iconic Monet painting expected to fetch $9m
Additional reading
Visual Protest: The Art of Banksy
by Gianni Mercurio
This major new book on the art of Banksy spans the entire career of the world's most famous anonymous street artist. Decades before he blew the lid off the high-stakes art world by shredding a work immediately following its purchase at an auction, Banksy was committing acts of artistic protest on the streets, walls and bridges of cities throughout the world. We still don't know who Banksy is, but thanks to this book we have a greater sense of how he works.
This book features approximately eighty works from the start of his street art career to today, most photographed in situ and presented in vibrant illustrations. This book guides readers through Banksy's artistic processes and explains his influences, such as the Situationism movement and the May 1968 uprising in Paris. It delves into key works such as Love Is in the Air, a stencilled graffiti that subverts the idea of violent protest; Flag, in which the iconic American photograph at Iwo Jima is altered to reflect a group of Harlem children atop a burnt-out car; and the slyly titled Turf War, in which Winston Churchill sports a grassy Mohawk. The book also pays tribute to Banksy's rats, a reviled symbol of urban decay that the artist reimagines as rappers, violin players and painters.
As Banksy continues to challenge the political, economic and racial oppression that takes place every day in cities around the world, this book offers a timely appreciation of just how the artist has embedded himself into the psyche of the powerful as well as the voiceless – without ever revealing his own identity. AUTHOR: Gianni Mercurio is a curator specialising in American art. He has published numerous books and exhibition catalogues on artists such as Andy Warhol, Keith Haring, Jean-Michel Basquiat, George Segal, and Roy Lichtenstein, and on the topics of Pop-Art, Hyperrealism, and Graffiti.
The gift shop is situated towards the back of the hotel and sells items created exclusively for the Walled Off by Banksy. It should not be confused with the 'Banksy Shop' next door – which has nothing to do with Banksy at all.
The Magpie was one of Monet's early attempts at capturing the effects of snow on the landscape. This palette is called the Magpie. Simon is a Sydney based digital designer. He is the Director of a boutique digital design studio, Bailey Street Design located in the vibrant inner west suburb of Newtown.