German-born architect and furniture designer Kem Weber (1889–1963) He became a master's student of Professor Bruno Paul at the Berlin Museum School in design, architecture, sculpture, and painting. He was sent to San Francisco in 1914 to build the German pavilion at the Panama Pacific World Exposition. However, in 1914, after the First World War broke out and he was left stranded in the USA. He changed his first name to the less German-sounding "Kem." (MD of Double Stone Steel Ltd, 2020)
Kem Architecture was part of the West Coast Modernist movement in America. His designs included many projects and products in Streamline Moderne, a form of Art Deco design and architecture that was very popular in the USA and Europe in the 1930s. This style emphasised curved forms and long horizontal lines; it was the epitome of sophistication and modernity in that era.
Biography
He pioneered furniture and interior design, creating interior decorations for Walt Disney's studios in Burbank and the Swiss Chalet in the Bismarck Hotel in Chicago. He was one of the founders of the Art Center in Los Angeles. He started the Barker Bros. Modes and Manners Shop in 1918 in Los Angeles and did one of the first contemporary buildings, the Sommer and Kaufman shoe store on Market Street, San Francisco. He was the art director at Paramount Studios, working with the late Cecil B. De Mille.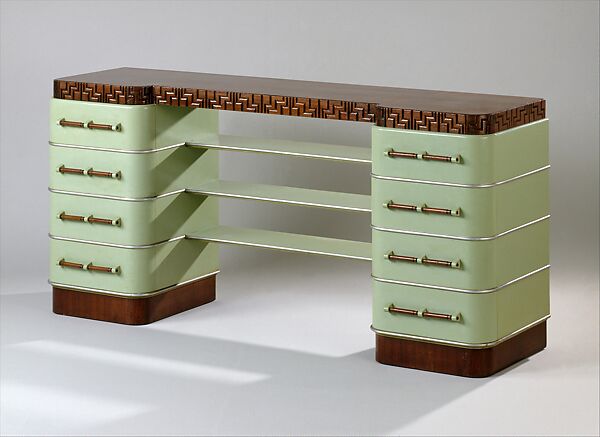 In 1927, he opened his own studio in Hollywood, dubbing himself an industrial designer. He could not work in a modern idiom due to postwar anti-German prejudice, although he continued to find commissions. By 1926. the cultural climate had become more sympathetic to modernism. Although he was virtually the only decorative arts designer to carry the Modern movement to the West Coast, his style was nonetheless his own.
In 1929, he designed two cocktail shakers with ebony handles for Friedman Silver, New York: silversmith Porter Blanchard of Pacoima, California, may have produced some tea sets after Weber's designs. His designs for various silver vessels were simple and undecorated and were, like all of his work, intended for industrial production.
Though Weber lived in California throughout the 1920s, his influence on design in New York was as great as if he had been a resident of Manhattan. He pioneered furniture that could be used for more than one thing, and his pieces often had the same soaring shape that Paul Frankl was known for. A widely published assignment of his was the Bissinger residence in San Francisco.
Airline Chair
In 1934, Weber made a change to the way bent plywood was made. It was called the Airline chair, reflecting the widespread fascination with all things modern, streamlined, and fast. It leans out like Marcel Breuer's bent-steel chair, but the side pieces are wood instead of steel.
Streamline Shape
With its striking chromed arms, Weber's armchair has a strong sculptural presence. As allusions to visual manifestations of speed appeared in all the arts, the teardrop shape could be seen in everything from pencil sharpeners to ceramics to automobiles. Streamlining suited the austere tone of the 1930s both stylistically and symbolically. Expensive materials were replaced by cheaper and newer ones that could be easily moulded for mass production, forms were pared down, and ornamentation was eliminated.
Construction
Each side comprises a C-shaped group of four parts strong enough to hold up the deep cantilever. seat and back were constructed of bent plywood, and versions were sold both with and without upholstery. It was easy to move and didn't weigh much. In some versions, the seat could be moved around, just like a regular recliner. Weber wanted to sell a lot of airline chairs, so he started a business to make and sell them. The factory-made chair was supposed to come in a broken-down box, saving the customer money on shipping and putting it together. But none of the things he tried to make work out. Walt Disney Studios ordered 300 chairs for its office building around 1935.
Exhibitions
The room setting at the 1928 Exposition of Art in Industry at Macy's. Macy's department store, New York; an airline chair included in the 1991 What Modern Was' travelling exhibition. The work is the subject of the 1969 Kem Weber: The Moderne in Southern California, 1920–1941 exhibition. Art Galleries of the University of California at Santa Barbara, California
Sources
Byars, M., & Riley, T. (2004). The design encyclopedia. Laurence King Publishing. https://amzn.to/3ElmSlL
MD of Double Stone Steel Ltd, R. S. A. (2020, August 20). The Story of Kem Weber (1889 – 1963), One of the Proponents of Art Deco Design and Architecture in 1930s America | Double Stone Steel. Double Stone Steel. Retrieved April 2, 2023, from https://www.doublestonesteel.com/blog/design/the-story-of-kem-weber-1889-1963-one-of-the-proponents-of-art-deco-design-and-architecture-in-1930s-america/
More on Furniture Design
Richard Schultz (1930 – 2021) American sculptor and furniture designer

In 1951, he became a member of Knoll's design development group. Initially, he collaborated on the wire Diamond sitting collection with Harry Bertoia. Schultz designed the Petal table in 1960, steel-wire lounge chairs in 1961, and outdoor Leisure Collection seating and tables in 1966 for Knoll. He designed a 1981 collection of outdoor furniture while…

---
More design articles
❤️ Receive our newsletter