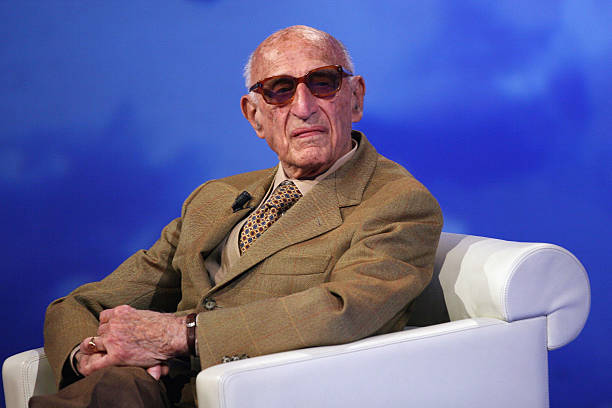 Gillo Dorfles (1910 – 2018) was an Italian art critic, painter, and philosopher. He was born in Trieste and active in Milan.
Biography
In 1948, with Soldatai, Monnet, and Munari, he was a founder of MAC (Movimento Arte Concreta). In 1956, he became a member of ADI (Associazione per il Disegno Industriale), of which he was promotion committee member.
Academia
He was a professor of aesthetics, Universita di Trieste.
He was on the committee of the 1955 industrial design exhibition, London.
He was a member of the international industrial design stand, 1957 (XI) Triennale di Milano;
Of the jury at 'BIO' Industrial Design Biennale, Ljubljana;
Of the jury at the event in Jablonec (now the Czech Republic);
Commissioner of the industrial stand at 1960 (XII) Triennale di Milano;
Delegate at 1957 'Journée de l'Esthetique Industrielle,' Paris;
Speaker at ICSID (International Congress of Industrial Designers), London;
Speaker at industrial section, 1957 Congresso dell'Aica, Naples.
Dorfles participated in the congress, 1954 (X) Triennale di Milano;
1957 meeting of CIAM (Congrés Internationaux d'Architecture Moderne) in Venice; and in
1961—62 events at Instituto Disegno Industriale, Florence; Italian Institute, London;
In 1963, Kunstgew-erbemuseum, Ziirich.
He published books Il Disegno Industriale e la sua estetica (1963) and Introduzione al Disegno Industriale (1971);
He was one of the first to observe the Kitsch in decoration and design, publishing Kitsch (1968).
Sources
Byars, M., & Riley, T. (2004). The design encyclopedia. Laurence King Publishing.
More on Design Education
Glasgow School – Art & Design Term

"Glasgow School' is a term used to describe several groups of artists based in Glasgow. The first and most significant of these groups was a loose association of artists active from around 1880 to the turn of the century; there was no formal membership or programme, but the artists involved (who prefered to be known as the Glasgow Boys) were united by a desire to move away from the conservative and parochial values they believed the Royal Scottish Academy in Edinburgh represented. The group's most well-known members were Sir James Guthrie (1859–1930) and Sir John Lavery. Several of them had lived and worked in France, and they were proponents of outdoor painting. The group's heydey was gone by 1900, and it did not survive the First World War. Still, it offered a significant spur for Scottish art in the twentieth century, paving the way for the Scottish Colourists. From roughly 1890 through 1910, a slightly later group created a different style of Art Nouveau. Charles Rennie Mackintosh, the architect and designer, was its most significant member.Read More →
You may also be interested in
Alvin Lustig, Cover for Industrial Design magazine, April 1954, Los Angeles County Museum of Art, gift of Tamar Cohen, reproduced courtesy F + W Media, Inc. Founded when the industrial design profession was becoming firmly established in the American manufacturing industry, Industrial Design has long been established as America's leading magazine for industrial designers.
The Association of Industrial Design (Associazione per il Disegno Industriale) (ADI) Since 1956, has brought together designers, companies, researchers, teachers, critics, journalists around the themes of Italian industrial design. It is the lead organisation of the development of industrial design as a cultural and economic phenomenon in Italy.
More design articles