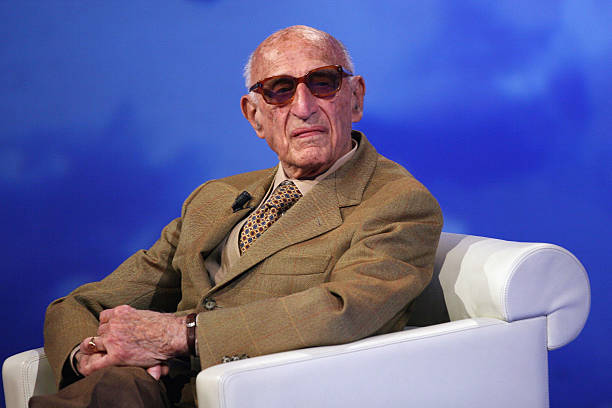 Gillo Dorfles was an Italian art critic, philosopher, and artist born on April 12, 1910, in Trieste, Italy, and passed away on March 2, 2018, in Milan, Italy. He was a prominent figure in the field of aesthetics and made significant contributions to the study of contemporary art.
Education
Dorfles received his degree in medicine from the University of Milan in 1936, but his passion for art led him to pursue a career as an art critic and theorist. He played a crucial role in developing the Italian art scene and was associated with the avant-garde movements of the 20th century.
Biography
In 1948, with Soldatai, Monnet, and Munari, he was a founder of MAC (Movimento Arte Concreta). In 1956, he became a member of ADI (Associazione per il Disegno Industriale), a promotion committee member.
"Gillo Dorfles was a visionary art critic who fearlessly navigated the ever-changing landscape of contemporary art, inspiring generations with his profound insights and unyielding passion for artistic expression."
As an art critic, Dorfles was known for his interdisciplinary approach, incorporating philosophy, sociology, and psychology into his art analyses. He believed that art should reflect the cultural and social context in which it was created and often examined the relationship between art and technology.
Dorfles authored numerous books and essays on art and aesthetics, including "Introduction to Contemporary Art" (1968) and "Kitsch: An Anthology of Bad Taste" (1968), which explored the concept of kitsch and its significance in contemporary culture. He also curated exhibitions and lectured extensively on art and culture.
Throughout his career, Dorfles was a proponent of artistic experimentation and openness to new forms of expression. He embraced a broad range of artistic styles and movements, advocating for the importance of individual creativity and innovation in art.
Academia
He was a professor of aesthetics at Universita di Trieste.
He was on the committee of the 1955 industrial design exhibition London.
He was a member of the international industrial design stand, 1957 (XI) Triennale di Milano;
Of the jury at 'BIO' Industrial Design Biennale, Ljubljana;
Of the jury at the event in Jablonec (now the Czech Republic);
Commissioner of the industrial stand at 1960 (XII) Triennale di Milano;
Delegate at 1957 'Journée de l'Esthetique Industrielle,' Paris;
Speaker at ICSID (International Congress of Industrial Designers), London;
Speaker at industrial section, 1957 Congresso dell'Aica, Naples.
Dorfles participated in the congress, 1954 (X) Triennale di Milano;
1957 meeting of CIAM (Congrés Internationaux d'Architecture Moderne) in Venice; and in
1961—62 events at Instituto Disegno Industriale, Florence; Italian Institute, London;
In 1963, Kunstgew-erbemuseum, Ziirich.
He published books Il Disegno Industriale e la sua estetica (1963) and Introduzione al Disegno Industriale (1971);
He was one of the first to observe the Kitsch in decoration and design, publishing Kitsch (1968).
Sources
Byars, M., & Riley, T. (2004). The design encyclopedia. Laurence King Publishing.
More on Design Education
Stuart Ash: Shaped Canadian Graphic Design

Stuart Ash, a pioneer of Canadian graphic design, co-founded Gottschalk + Ash International in 1966, creating transformative visual identities like the Canadian Centennial symbol. His minimalist designs, garnering many awards, significantly elevated Canadian design's global status and continue to influence new generations of designers.Read More →

---
You may also be interested in
Alvin Lustig, Cover for Industrial Design magazine, April 1954, Los Angeles County Museum of Art, gift of Tamar Cohen, reproduced courtesy F + W Media, Inc. Founded when the industrial design profession was becoming firmly established in the American manufacturing industry, Industrial Design has long been established as America's leading magazine for industrial designers.
The Association of Industrial Design (Associazione per il Disegno Industriale) (ADI) Since 1956, has brought together designers, companies, researchers, teachers, critics, journalists around the themes of Italian industrial design. It is the lead organisation of the development of industrial design as a cultural and economic phenomenon in Italy.
More design articles